The first thing anyone considers while buying a desktop PC is the built-in storage. Hard disk drives or HDDs are what stores everything that you instill into your computer. Whether its documents, files, software, or an operating system, the hard disk of your desktop is the primary storage. All the files are directly stored on the hard disk of your PC. Without it, your computer is worthless.
Plus, you need your hard disk to be of high quality. It should come with enough storage to satisfy your needs. The good thing is that you can choose the right hard disk for your desktop PC. Moreover, you can change or replace the one already installed with a hard disk of a larger size quite easily without any hassle.
Western Digital, along with other parts, has earned a name for itself in manufacturing the best hard disk drives for desktop PCs. The company ensures long-lasting, extremely resistant, and highly functioning products. These hard disk drives can last years without having to go through any trouble.
Here, you will know about a few hard disks of the Western Digital Company and WD Desktop Hard Disk prices in Srilanka.
WD Blue 1TB Desktop Hard Disk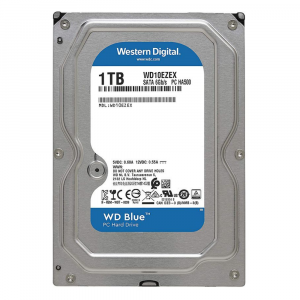 The first one in the context is a marvel of its own in the technology world. This 1TB hard disk is perfect for your desktop PC no matter if it's for office use or home use. It is reliable and can handle any operating system and files of any kind. It comes with a 2-year warranty. It has a cache size of 64MB and a disk speed of 5400rpm. It comes packed with a SATA interface and is guaranteed to provide you with the best performance. The WD Blue 1TB Desktop Hard Disk price in Srilanka is රු10,500.
WD Blue 2TB Desktop Hard Disk
Next comes the 2TB Desktop Hard Disk bearing the trademark of WD Company in the color blue. It withstands every lab test and withholds every standard of the market. The certified hard disk is also suitable for home and office use. The 2TB storage space is more than enough to store all your important files, documents, movies, and software of any size. You can rest assured that all your files are safe and they will be kept that way for a long period of time. With a 2 year warranty, the WD Blue 2TB Desktop Hard Disk price in Srilanka is රු13,500.
WD Blue 4TB Desktop Hard Disk
This beast of a hard disk has 4TB of storage space. You don't have to worry about increasing the size of your hard disk for the rest of your life. With 256MB cache speed and compatibility with different operating systems, you can use it any way you want. It has a disk speed of 5400 rpm and is designed to perform high-end tasks quite easily. The WD Blue 4TB Desktop Hard Disk price in Srilanka is රු24,500 and it also comes with a 2-year warranty.
Conclusion
When you are buying a hard disk for your PC, you want the best option you can get on the market. WD is the first option for you for availing tested and certified products produced keeping in view the highest standards of the market.