The advent of the 4th generation motherboard has significantly transformed the computing landscape in Sri Lanka. This article intends to explore the pivotal features of this device, its market availability, and pricing in Sri Lanka.
Additionally, it will delve into the performance analysis of the Esonic H81 Jel DDR3 and Asus H81M-K Motherboards, based on user reviews and technical evaluations.
The objective is to provide comprehensive insight into this technology in the Sri Lankan context.
Asus H81M-K Motherboard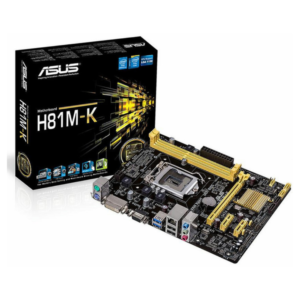 The Asus H81M-K Motherboard, a popular choice among tech enthusiasts in Sri Lanka, offers a variety of features such as enhanced memory compatibility and robust safety features. This motherboard supports a multitude of Intel processors and has a dual-channel DDR3 memory architecture that ensures efficient and smooth performance. It is designed with a UEFI BIOS that provides a user-friendly interface, enabling users to set up their system and optimize performance.
One of the notable features of the Asus H81M-K Motherboard is its 5X Protection. This feature is a design philosophy that includes quality components such as DIGI+ VRM digital power design for precise power control, enhanced DRAM overcurrent protection, and stainless-steel back I/O for long-term durability. These elements are integrated into the motherboard to ensure overall system stability and longevity.
The Asus H81M-K Motherboard also includes the Asus GPU Boost technology, which enables graphics performance enhancement. This technology works by automatically accelerating the GPU to perform at its peak for stunning visuals. Furthermore, the motherboard incorporates the Asus EPU, a chip that provides system-wide energy efficiency, reducing power consumption and environmental impact.
Networking capabilities of the Asus H81M-K Motherboard are also commendable. The motherboard's LAN port is guarded by an anti-surge LANguard, ensuring a more reliable and safer internet connection. The motherboard also provides enhanced compatibility with various operating systems, proving its versatility.
Key Features of the 4th Gen Motherboards
Key attributes of these modern circuit boards include enhanced processing power, improved energy efficiency, and advanced connectivity options. The 4th Generation motherboards offer a significant performance boost over their predecessors. This is primarily due to the integration of more powerful processors that can handle complex tasks with greater efficiency. The advanced microarchitecture design of these processors enables higher performance while consuming less power, thereby increasing energy efficiency.
Additionally, the 4th Generation motherboards come with advanced connectivity options. These include USB 3.0 ports, which provide faster data transfer rates compared to the older USB 2.0, and PCI Express 3.0 slots, which support the latest graphics cards for improved gaming performance. Furthermore, these motherboards also feature SATA 3.0 ports for connecting high-speed storage devices.
Another key feature of the 4th Generation motherboards is the incorporation of dual-channel DDR3 memory. This technology allows the motherboard to handle large amounts of data more effectively, thus improving overall system performance. The dual-channel configuration also enhances the speed of data transfer between the memory and the processor, thereby reducing system latency.
Moreover, these motherboards support Gigabit Ethernet, ensuring speedy and reliable internet connectivity. This feature is particularly useful for online gaming and streaming high-definition videos.
Market Availability and Price Rates in Sri Lanka
Market availability and price rates in this South Asian country can greatly impact the adoption of advanced circuit boards such as those of the fourth generation. The examination of the current market situation reveals that the distribution of advanced technology products, specifically fourth-generation motherboards, is highly dependent on import and export regulations, taxes, and customs duties imposed by the Sri Lankan government.
In terms of price rates, it is observed that there is a significant variation in the cost of fourth-generation motherboards. This disparity is influenced by several factors including the brand, model, and features of the motherboard, exchange rates, and import charges. Another contributing factor is the level of competition among computer hardware retailers in the country, which can lead to fluctuating prices.
Furthermore, the country's prevailing economic conditions and the purchasing power of the consumers also have considerable implications on the market availability and price rates of these motherboards. Economic instability or downturns can lead to reduced consumer spending on technology products, thereby affecting demand and supply dynamics. For more info on 4th Gen Motherboard Prices in Sri Lanka.
The adoption of fourth-generation motherboards in Sri Lanka is also influenced by the level of technological awareness and digital literacy among consumers. Consumer preference for advanced technology products is often predicated on the perceived benefits in terms of performance enhancement and cost-effectiveness. Therefore, increasing consumer awareness about the benefits of fourth-generation motherboards could potentially boost their adoption in the country.
Esonic H81 Jel DDR3 Motherboard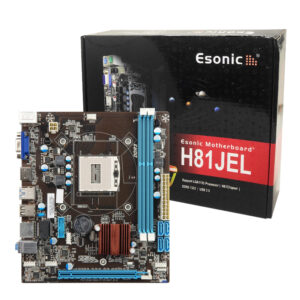 Esonic H81 Jel DDR3, a prominent model of circuit board, has gained significant traction in the tech market due to its advanced features and competitive pricing. This motherboard is designed to support 4th generation Intel Core processors, providing users with superior computing power. It incorporates dual DDR3 memory slots, supporting up to 16GB of RAM, which ensures smooth performance even under demanding workloads.
The Esonic H81 Jel DDR3 also features multiple connectivity options, including USB 3.0 ports, HDMI, and VGA display outputs, which offer a flexible interface for various peripheral devices. The presence of SATA 3.0 ports enables fast data transfer rates, optimizing the performance of connected storage devices. Moreover, this motherboard is equipped with a Realtek ALC662 audio codec, delivering high-quality sound output.
In the context of the Sri Lankan tech market, the Esonic H81 Jel DDR3 has been well-received due to its affordability and robust performance. The competitive pricing strategy adopted for this motherboard caters to a wide spectrum of consumers, ranging from budget-conscious individuals to professional users seeking high-performance hardware.
User Reviews and Performance Analysis in Sri Lanka
User feedback and performance evaluations in the local tech sphere present valuable insights into the practicality and efficiency of the Esonic H81 Jel DDR3. These evaluations and reviews are crucial in assessing the effectiveness of this motherboard within the Sri Lankan market, and its suitability for the local tech enthusiasts and professionals.
In terms of performance, the Esonic H81 Jel DDR3 has been widely cited for its stability and compatibility with a range of 4th generation processors. The motherboard supports DDR3 memory, offering a significant boost to system speed and performance. It is also recognized for its robust construction and long-lasting durability, a vital aspect in the local market where conditions may be challenging.
User feedback also highlights the ease of installation and setup, allowing even novice users to navigate the process with minimal difficulty. Furthermore, the Esonic H81 Jel DDR3's affordability compared to its competitors makes it a preferred choice for many in Sri Lanka, particularly those building systems on a budget.
Critiques, however, point out the limitations in the motherboard's expandability. The board only has two slots for memory, which may limit future upgrades. Despite this, the overall favorable reviews indicate that the Esonic H81 Jel DDR3 is a reliable, cost-effective solution in the local tech sphere.
Conclusion
In conclusion, the 4th generation motherboards, including the Asus H81M-K and Esonic H81 Jel DDR3, are available in the Sri Lankan market. They offer advanced features, contributing to efficient computer performance.
Market rates vary, yet are reasonable. User reviews indicate satisfaction with these products, further confirming their quality and reliability.
Thus, these 4th generation motherboards are an excellent choice for enhancing computing experiences in Sri Lanka.