This article explores the pivotal role of network switches within Sri Lanka's burgeoning digital landscape.
It offers an in-depth analysis of the various types of network switches available in the market, specifically focusing on models such as the Aruba Instant On 1930 8-Port JL680A Gigabit Managed Switch, the Netgear 16-Port Gigabit Ethernet High-Power Unmanaged PoE+ Switch, and the TP Link 16 Port Desktop Switch.
Understanding Network Switches
Understanding network switches involves a comprehensive study of their function as networking devices that connect devices together on a computer network by using packet switching to receive, process, and forward data to the destination device. These vital pieces of hardware serve as the building blocks for any network and enable the sharing of resources and information across devices.
At the heart of a network switch's functionality is the concept of packet switching. This is the process where data is broken down into packets, which are then sent across the network to the designated recipient. The switch determines the correct path for each packet based on its destination address, ensuring efficient delivery and minimizing network congestion.
Network switches also play a crucial role in managing network traffic. They are capable of inspecting data packets as they are received, determining the source and destination device of each packet, and forwarding them accordingly. This ability to process and direct data at the network level provides a significant improvement in terms of both network speed and security.
In Sri Lanka, as in the rest of the world, network switches are integral to the operation of both large and small-scale networks. Whether in a home setting, where a single switch might connect a few devices, or in a business environment with multiple switches handling thousands of connections, the function of these devices is critical.
The Role of Network Switches in Sri Lanka's Digital Landscape
In the digital landscape of this South Asian country, the role of devices that connect different devices within a single local area network (LAN) is crucial for smooth communication and data transfer. Sri Lanka, being a developing nation, is rapidly adopting digital and network technologies to boost its economy and improve the lives of its citizens. In this context, network switches play a pivotal role in supporting the necessary infrastructure for digital transformation.
The importance of network switches in Sri Lanka's digital landscape can be seen in the following key areas:
– **Telecommunications:** Network switches facilitate efficient data transfer among telecommunication devices, contributing to Sri Lanka's rapidly expanding telecom sector.
– **Education:** They support digital learning initiatives by ensuring stable and reliable internet connectivity in educational institutions.
– **Government Services:** Network switches assist in the digitalisation of government services, increasing efficiency and accessibility.
– **Business Operations:** They enhance business operations by providing stable and fast network connections, enabling businesses to operate more effectively in the digital age.
As Sri Lanka continues to embrace digital transformation, the importance of network switches is becoming more pronounced. They are essential components of the digital infrastructure that enables seamless communication and data transfer. Without these devices, the ambitions of this South Asian country to fully utilise digital technologies for economic and social development could be significantly hampered.
Therefore, understanding the role and functionality of network switches is important for anyone interested in the digital landscape of Sri Lanka.
Types of Network Switches Available in Sri Lanka
Diverse types of devices for connecting various components within a local area network are readily accessible within this South Asian nation, each with unique features and functionalities tailored to different digital needs. Notable among these are network switches, which play a pivotal role in managing and directing network traffic.
Several types of network switches are available in Sri Lanka, each designed for specific applications. Unmanaged switches, for instance, are typically used in homes and small offices due to their plug-and-play nature. These devices do not require any configuration and are, therefore, easy to install and use.
Managed switches, on the other hand, offer more control over network traffic. These devices can be programmed to prioritize certain types of data, making them suitable for large corporations and data centers where network efficiency is paramount.
Smart switches are another type available in the country. These switches offer a middle ground between managed and unmanaged switches, offering a degree of control over network traffic without the need for extensive management.
Stackable switches are also commonly found. These can be interconnected to create a single, larger switch, providing a scalable solution for growing businesses.
Lastly, there are PoE (Power over Ethernet) switches. These devices can provide power and data over a single Ethernet cable, simplifying the setup of devices such as IP cameras and VoIP phones.
Aruba Instant On 1930 8-Port JL680A Gigabit Managed Switch With 2SFP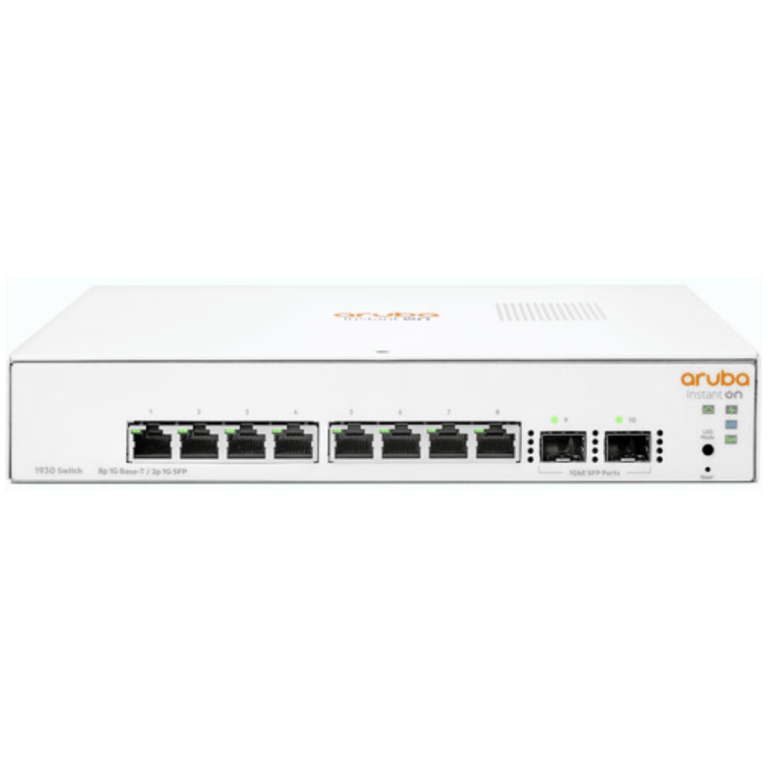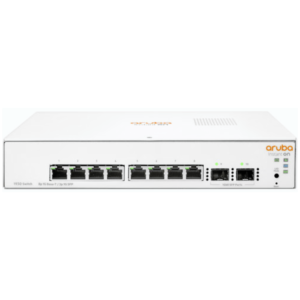 The Aruba Instant On 1930 8-Port JL680A Gigabit Managed Switch, equipped with 2SFP, epitomizes the technological advancements in data management and distribution. This device offers a multitude of features, providing businesses with network stability and streamlined data distribution.
Its characteristics can be summarized as follows:
– Enhanced data management: With its efficient data distribution and management, it ensures network stability and high-speed data transmission.
– Versatile connectivity options: The device offers gigabit Ethernet ports for high-speed wired connections and two SFP ports for fiber optic connections.
– User-friendly interface: It is equipped with a user-friendly interface, allowing for easy setup and management of the device.
– Warranty: The device comes with a 2-year warranty, ensuring the longevity of the product.
The inclusion of this device in the Sri Lankan market symbolizes the advancement in network technology in the region. The device's high-speed data transmission and flexible connectivity options make it suitable for businesses of varying sizes. Its user-friendly interface ensures easy setup and management, making it a perfect choice for businesses without dedicated IT departments. The two-year warranty further enhances its attractiveness by offering assurance of the product's durability and reliability.
Netgear 16-Port Gigabit Ethernet High-Power Unmanaged PoE+ Switch With FlexPoE (183W)- GS116PP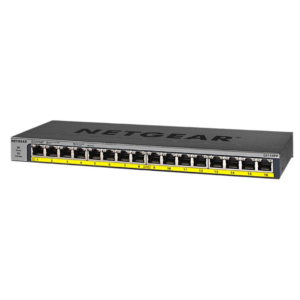 Netgear's 16-Port Gigabit Ethernet High-Power Unmanaged PoE+ Switch, known as GS116PP, boasts FlexPoE (183W) capabilities, positioning it as an attractive solution for businesses seeking efficient data distribution and management. This device offers unmanaged plug-and-play connectivity with a high-power budget, allowing for flexible network expansion and the integration of high-powered devices without the need for additional infrastructure.
The GS116PP model provides a total of 16 Gigabit Ethernet ports, each capable of delivering data and power over the same cable, reducing clutter and simplifying deployment. The high-power budget of 183W, combined with the ability to prioritize power allocation, enables the connection of various power-demanding devices such as wireless access points, IP cameras, and VoIP phones. This capacity becomes particularly beneficial in businesses where reliable, high-speed data transfer and continuous device operation are critical.
In addition to its high-power capabilities, the GS116PP device is characterized by its robust construction and energy-efficient operation. It is designed to withstand harsh operating environments, making it suitable for both office use and more demanding industrial applications. Furthermore, its energy-efficient Ethernet support contributes to reduced operational costs by minimizing power consumption.
Another notable feature of the GS116PP device is the provision of a two-year warranty, underlining Netgear's confidence in the reliability and durability of their product. This assurance of quality, combined with the device's robust performance capabilities, makes the GS116PP an appealing choice for businesses in need of a high-powered, efficient, and reliable network switch solution.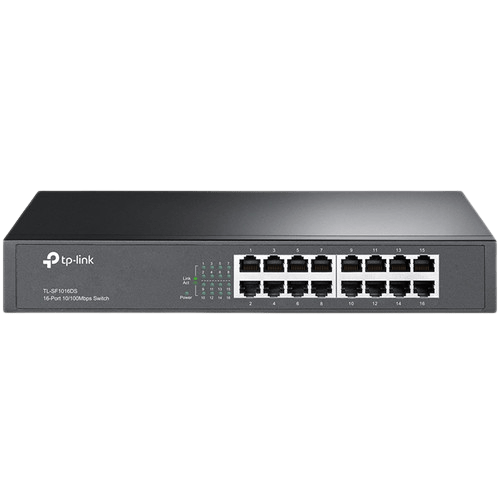 Shifting focus to another notable device, the TL-SF1016D model by TP-Link, it must be noted that this unit offers 16 ports for desktop connectivity with the data transmission speed of 10/100M. This device is designed to meet the needs of high-speed, secure, and efficient network performance. The TL-SF1016D model is an unmanaged switch, meaning it does not require any configuration and installation is simple and hassle-free.
The device comes with significant features that make it a suitable choice for a variety of setups. These features include:
* Automatic MDI/MDIX, which eliminates the need for crossover cables or Uplink ports.
* Non-blocking switching architecture that forwards and filters packets at full wire-speed for maximum throughput.
* IEEE 802.3x flow control for Full Duplex mode and backpressure for Half Duplex mode.
* Auto-negotiation ports provide smart integration between 10Mbps and 100Mbps hardware.
Moreover, this device is designed with energy efficiency in mind, boasting up to 80% power saving potential. The Innovative energy-efficient technology can expand network capacity with much less power. It automatically adjusts power consumption according to the link status and cable length to limit the carbon footprint of network operation.
The TL-SF1016D model comes with a 2-year warranty, further offering assurance in terms of reliability and longevity. In conclusion, the TL-SF1016D 16 Port Desktop Switch by TP-Link provides a high-speed, reliable, and efficient solution for expanding the wired network in multiple scenarios. Thus, it is a versatile and cost-effective choice for expanding any network.
Conclusion
In conclusion, the network switch plays a significant role in Sri Lanka's digital landscape. For more Network Switch Prices in Sri Lanka.
A diverse array of switches, such as the Aruba Instant On 1930 8-Port JL680A Gigabit Managed Switch, the Netgear 16-Port Gigabit Ethernet, and the Tp Link 16 Port Desktop Switch, provide businesses and individuals with the necessary tools to maintain reliable and efficient networks.
These technological devices ensure that Sri Lanka remains connected and competitive in the ever-evolving digital world.