Investigating the market for Brother Original Toner in Sri Lanka provides valuable insights into the dynamics of the printing industry. This study aims to assess the importance of original toner, guide consumers in product selection, and critically evaluate the performance of specific toner models.
The findings will contribute to procurement strategies, inform consumer decisions, and stimulate further research in the field of office supplies and equipment.
Understanding the Importance of Brother Original Toner
The importance of Brother Original Toner in Sri Lanka can be attributed to its high-quality printing, longevity, and compatibility with Brother printers. This product holds a significant position in the printing industry due to its superior quality and performance. The unique formulation of Brother Original Toner ensures sharp, vivid, and clear printing results that are essential for high-quality document production.
This toner is highly appreciated for its robustness, providing long-lasting printing solutions. By implementing the latest technology and manufacturing processes, Brother Original Toner ensures high page yield, reducing the frequency of toner replacement and thereby reducing the overall printing costs. This longevity contributes to sustainability by minimizing waste generation and reducing the environmental footprint of the printing process.
Compatibility is another important feature of Brother Original Toner. The design and formulation of the toner are specifically tailored to complement Brother printers, ensuring optimal printer performance and maintenance of print quality over time. Use of non-compatible or counterfeit toners can lead to poor print quality and printer damage, resulting in increased maintenance costs and downtime. Therefore, Brother Original Toner is the recommended choice for users of Brother printers in Sri Lanka.
Buying Guide: Selecting the Right Brother Original Toner
Selecting an appropriate printing component requires careful consideration of several factors, including compatibility, print quality, and cost-effectiveness.
When it comes to Brother Original Toner, it is crucial to underline the importance of compatibility. Ensuring the toner's compatibility with the specific printer model is paramount, as it guarantees optimal functionality and prevents potential damage to the printing device. Please check out Brother Original Toner Prices in Sri Lanka.
The quality of print output is another vital factor to consider. Brother Original Toner has been designed to work in tandem with Brother printers, providing crisp, clear, and high-quality prints. These toners are formulated to ensure they work efficiently with the printer's components, reducing the risk of smearing or blotting, and ensuring consistency in print quality.
Cost-effectiveness, while often overlooked, is an essential factor when selecting a printing component. Although Brother Original Toners may appear more expensive than non-genuine alternatives, they offer better value in the long run. Non-genuine toners can lead to frequent replacements, poor print quality, and potential damage to the printer. In contrast, Brother Original Toners are designed to last longer, providing consistent quality while protecting the printer's components, thereby reducing maintenance and replacement costs.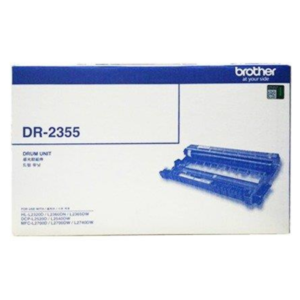 Incorporating the DR-2355 drum unit into the printing process can significantly enhance the overall print quality and efficiency. Designed specifically for Brother laser printers, this drum unit ensures high definition prints and smooth operation. The DR-2355 drum unit is built with precision and durability in mind, leading to fewer maintenance issues and a longer lifespan, thereby maximizing the printer's potential. Its compatibility with a variety of Brother printer models makes it a versatile addition to any office or business setting.
The following points summarize the product specifications, advantages, and potential drawbacks of the Brother DR-2355 Original Drum Unit:
Product Specs:
– Designed for Brother laser printers
– High definition print quality
– Long lifespan
Pros:
– Enhanced print quality and efficiency
– Fewer maintenance issues
– Compatibility with various Brother printer models
Cons:
– Higher upfront cost compared to generic drum units
– Limited compatibility outside Brother brand printers
– Potential for decreased print quality over time with heavy use.
High-quality prints and efficient operation are assured with the utilization of the TN-2280 drum unit, specifically designed for laser printers. This drum unit is a product of Brother International, a company known for its innovative and high-quality printing solutions.
The TN-2280 is designed to seamlessly integrate with Brother laser printers, providing clear, sharp, and high-resolution prints. With a high yield of 2600 pages, this drum unit caters to the needs of both small and large-scale printing activities. Its robust construction ensures long-term service and reduces frequent replacement needs, thereby offering cost-effective printing solutions.
• Product Specs:
– Manufacturer: Brother International
– Print Yield: 2600 pages
– Compatibility: Brother laser printers
• Pros:
– High print yield
– Superb print quality
– Durable construction
• Cons:
– High upfront cost
– Compatibility limited to Brother printers
– May require professional installation.
The TN-2380 Toner, a product from a globally recognized company, is designed for laser printers and ensures high-resolution, sharp, and clear prints. It is compatible with a wide range of Brother laser printers, making it a versatile choice for businesses and individuals alike. The unit boasts of a high yield of up to 2,600 pages, thereby offering cost efficiency over time. Additionally, it is engineered to work optimally with Brother printers, thereby reducing the risk of printer damage and maintaining print quality. This toner is also designed for easy installation and replacement, thus offering convenience to users.
– Product specs:
– High yield of up to 2,600 pages
– Compatible with a wide range of Brother laser printers
– Easy installation and replacement
– Pros:
– High-resolution, sharp, and clear prints
– Cost efficiency over time
– Reduced risk of printer damage
– Cons:
– May not be compatible with printers from other brands
– High upfront cost
– Potential for decreased print quality over time if not maintained properly.
Conclusion
In conclusion, the Brother Original Toner is an essential component in achieving high-quality prints. It is important to scrutinize the specifications and compatibility of the toner with the printer in use.
The Brother DR-2355, TN-2280, and TN-2380 Original Toners are among the top choices due to their reliability and optimum performance.
Therefore, investing in Brother Original Toners is a sound decision for efficient and superior printing results.