August 18, 2021 By Richcom Technology –2 Min Read
We are one of the best printer repair and maintenance companies in Sri Lanka. We specialize in Epson, Brother, Canon, HP printer repair in Sri Lanka. We are a leading name in the tech industry to deliver service of Printer repair in Sri lanka. With our wide experience in this industry, we are highly engaged to offer best quality Printer repairing and maintenance services.
Customer Satisfaction is our Priority!
Our professionals passionately check all the parts of the printer and identify what exactly is the issue of the printer and then fix the issue with their expertise. We at Richcom use the best tools and modern technology for our repairing projects. We have experienced technicians who can solve any difficulty with your printer with best in class service. Moreover, the Printer Repair Services offered by us for our clients are available at the best prices. Our experts can work on your issues and solve them in the shortest time possible.
Our professionals can fix all the problems of different models!
If you have an issue with your laser jet, color HP laser jet or need Canon Printer repair in Sri Lanka, just call us or mail us your details with a description of your printer issue and we will quote you an estimate for the repair of your printer with parts and labor. We will deal with you promptly and efficiently, decreasing the stress caused to your business.
At Richcom printer repair, we can repair a large range of printers from different brands such as HP, Canon, Brother, Lexmark, Epson which include Black and White Laserjet Printers, Color Laser Printers, Dot-Matrix Printers, All in one printers, and other types of printers that you own. We Provide On-site pickup and delivery service for your printer repair service.
Some of the Printer Issues we can fix include:
Frequent Paper Jam of printer
Streaked Pages while printing
Withdraw blank sheet after paper print
Printer connectivity issue with the computer
Sometimes print half a page
Print blur images
Print lighter images
Print puddle links
Print jagged vertical lines
Missing colors
Missing some characters
Print in different size
Too much noise while printing any document
Paper not feeding
Maintenance kit replacement
Substandard printer drivers
Poor-quality printing
Printing of abnormal characters
Unrecognized WiFi
Computer crashes during printing
Power supply issues
Worn out laser heads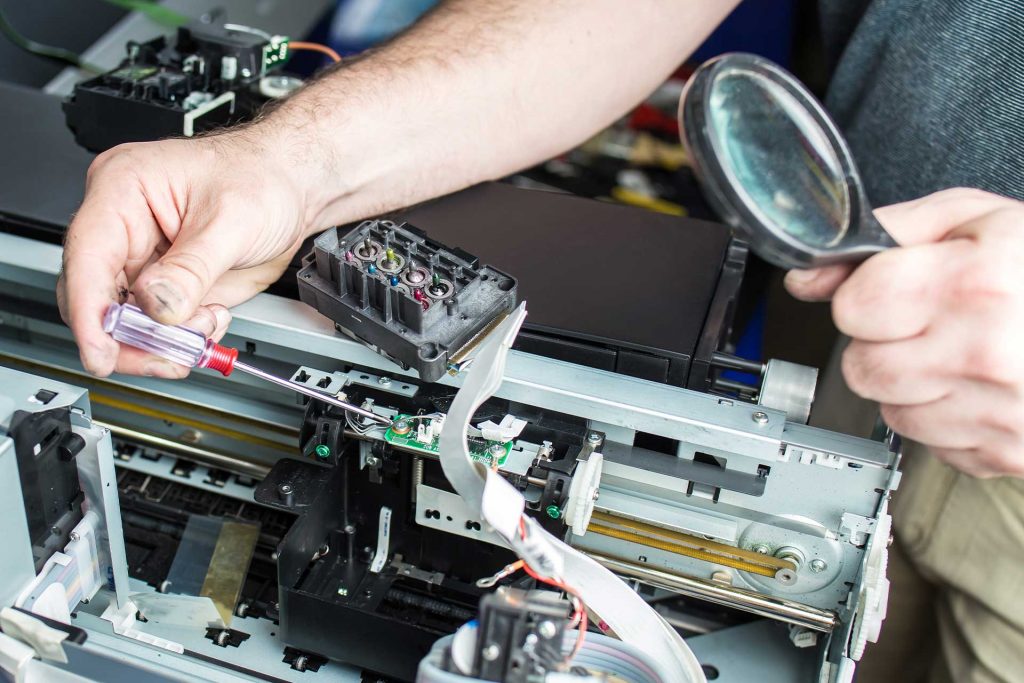 All machines need proper care and maintenance to ward off issues or failures. Similar practices are applied to printers to make sure the longer working of your machine. Regular maintenance of the printers can increase the productivity of your device and allow consistent high-quality prints.
When you have important documents to print, there is nothing more disappointing than having a malfunction in your printer. Sometimes it's difficult to know if you should get your printer replaced or repaired. But don't you worry. We will repair your printer in most of the possible conditions and will charge you accordingly.
Why is Richcom Best for Printer Repair in Sri Lanka?
We offer efficient, fast and on site printer repair services.
4-6 hour response time once request is submitted.
We have new and branded spare parts available for your device.
Full reporting and audit provided.
Professional service with proper guidance.
All consumables supplied on request.
Fast and efficient delivery service.
Emergency service available
Warranty repairing on some conditions applied.
Maintenance contracts.
Online support available 24/7
So, if you are looking for the best printer repair service in Sri Lanka, Richcom Technology is the best option when it comes to printer repair and service for you.