Powerline adapters are all the buzz right now and for a good reason too. If you have a wireless connection in place in your home but you are facing some troubles with it, Powerline adapters are the perfect remedy for it. They don't require any tools or equipment to get installed. They provide a hassle-free superfast internet connection without having you go through the trouble of laying any wires.
The Powerline adapter installation process is also very easy. All you need to do is plug an adapter near your target device such as a computer and another adapter near the router. After plugging, you can easily connect the adapter with the router. Internet signals will be carried out via electrical wiring from the router to your computer. These adapters act as means to convey the internet from one device to another.
Here are the three most famous Powerline adapters or extenders available in Srilanka.
Tp Link Av200 300mbps Powerline Extender-Tl-Wpa2220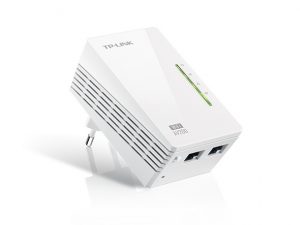 As is clear from the name, you can extend your internet connection of 300mbs from the router to the target device. It features a WiFi clone button that makes it super easy for you to configure your wireless connection. Additionally, with the press of a button, you can extend the range of your WiFi over a distance of about 300 meters via an electrical circuit. It requires any version of Windows up to Windows 8 and is also compatible with Mac OS and LINUX. The power requirement is 5W and you will also get a quick installation guide to take you through the installation process. The Tp Link Av200 300mbps Powerline Extender-TI-Wpa2220 price in Srilanka is රු14,250.
Tp Link Av200 Nano Powerline Adapter-Tl-Pa2010
This Powerline adapter and extender is one of the smallest in this category. Its size and lack of any wires make it pretty discreet and hard to notice when plugged into any socket. The data transfers with this device happen at 200mbps. It consumes minimal energy and helps save 75% of the power. The power consumption is less than 2W. The CE, FCC, and RoHS certified product comes with a solid warranty of up to 2 years. It is compatible with Windows 2000, 2003, Vista, Windows 7, LINUX, and Mac. It has a pairing button that makes it easy for you to pair both devices with each other and the target devices. The Tp Link Av200 Nano Powerline Adapter-TI-Pa2010 price in Srilanka is රු16,750.
Tp Link Av500 Nano Powerline Adapter-Tl-Pa4010
As far as powerline adapters go, this is the best one you come across. It is compliant with standard HomePlug AV. With this, you have the luxury to save up to 85% of your power. It is very small in size and does not require any new wires, configuration, or extensive setting up. The maximum power consumption of the device is 2.3W. Same as the others, its effective range of internet extension is 300 meters. Although the installation process is quite easy, you also get a quick installation guide in the pack. The Tp Link Av500 Nano Powerline Adapter-TI-Pa4010 price in Srilanka is රු15,500.
Conclusion
The beneficial advancements of technology have led to more advanced ways to increase the effective range of your internet connection. Whether it is wireless or Ethernet, you can use powerline adapters to supply internet in every part of your house. The three examples provided above are exactly what you need for your home.