HP Original Toners are a popular choice among consumers, as they offer reliability and quality. They provide a range of products that enable users to get the most out of their printers and copiers. By using HP Original Toners, users can benefit from increased productivity and cost savings. This article will review the features and benefits associated with HP Original Toners, providing an overview of how this product line can help businesses meet their printing needs.
The HP Original Toner cartridges are designed to deliver outstanding performance in a wide variety of printers and copiers. The toner cartridges are designed to be compatible with a broad range of models and provide reliable results every time. In addition, HP Original Toners also come with advanced features such as Smart Printing Technology, which helps minimize waste and maximize efficiency by adjusting printer settings automatically for optimal output quality.
Furthermore, HP Original Toners also offer cost savings over generic brands. This is due to their robust construction and long-lasting performance characteristics, which reduce the amount of toner needed between replacements. With these cost savings in mind, it is easy to see why HP Original Toners are such a popular choice among consumers looking for reliable printing solutions.
Benefits Of HP Original Toners
The use of HP original toners in printing devices offers a range of benefits. Firstly, the quality of the printed output is improved. HP original toners are formulated to produce sharper and more vivid images, as well as deeper and richer color tones. This results in better print quality when compared to using generic toners.
In addition, HP original toners have been designed to be reliable and durable. This ensures that they are able to last longer than other toner cartridges while also requiring less frequent replacement due to their higher page yield. As such, HP original toners are a cost-effective choice for businesses or individuals who print regularly.
HP original toners also come with a range of security features which provide extra protection against counterfeit products. Such features include authentication technology which can validate if the product is genuine or not. Such measures ensure that customers are able to purchase only authentic HP products and receive all the associated benefits.
Types Of HP Original Toners
HP Original Toners are a type of consumable used in laser printers and other imaging devices. These products are designed to reproduce accurate and high-quality images on a range of different media. As such, HP Original Toners offer a number of advantages over generic toner cartridges.
The first type of HP Original Toner is the LaserJet series, which is designed for use with HP's own line of laser printers. These toners produce excellent image quality, with sharp lines, consistent color density and reduced waste. Additionally, they are well suited for printing onto heavier papers and other types of media that require higher levels of detail.
The second type of HP Original Toner is the Color LaserJet series. This product line produces vibrant colors as well as deep blacks on any type of paper or other media that can be printed on with an imaging device. Furthermore, it offers faster print speeds than many generic toner cartridges while still maintaining its superior image quality.
Overall, HP Original Toners prices are affordable and provide users with reliable performance when printing documents and images on a variety of surfaces. They deliver exceptional image quality at competitive prices compared to their non-original counterparts, making them an attractive option for those who require consistent results from their printing devices.
HP 05A Original Toner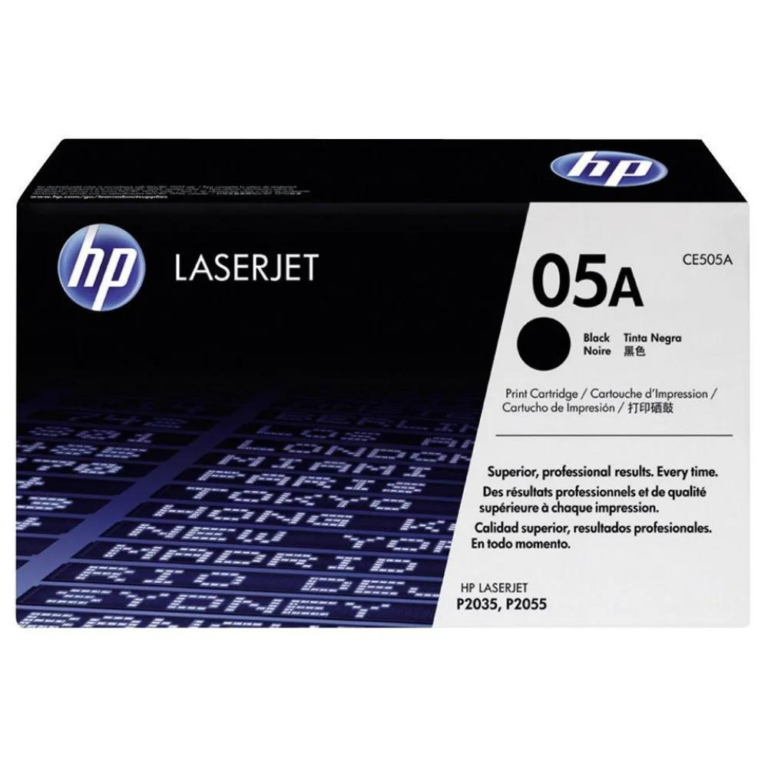 HP 05A original toner is a type of toner that is manufactured by HP, a technology company. It is designed for use in laser printers and other compatible devices. The toner is suitable for medium sized businesses, as well as larger organizations. It offers a high level of print quality and reliability.
The HP 05A original toner provides up to 2,300 pages at 5% coverage with each cartridge. It is also easy to install and replace, offering convenience to users. In addition, the toner uses HP's Smart Printing technology which helps reduce environmental impact by using less energy during printing operations.
Overall, the HP 05A original toner offers users an efficient and reliable printing solution with excellent print quality and low environmental impact. The ease of installation makes it ideal for medium-size businesses and large organizations alike who are looking for an affordable printing solution that can provide consistent results over time. The HP 05A Original Toner price in Srilanka is Rs.33,000.
HP 107A Original Toner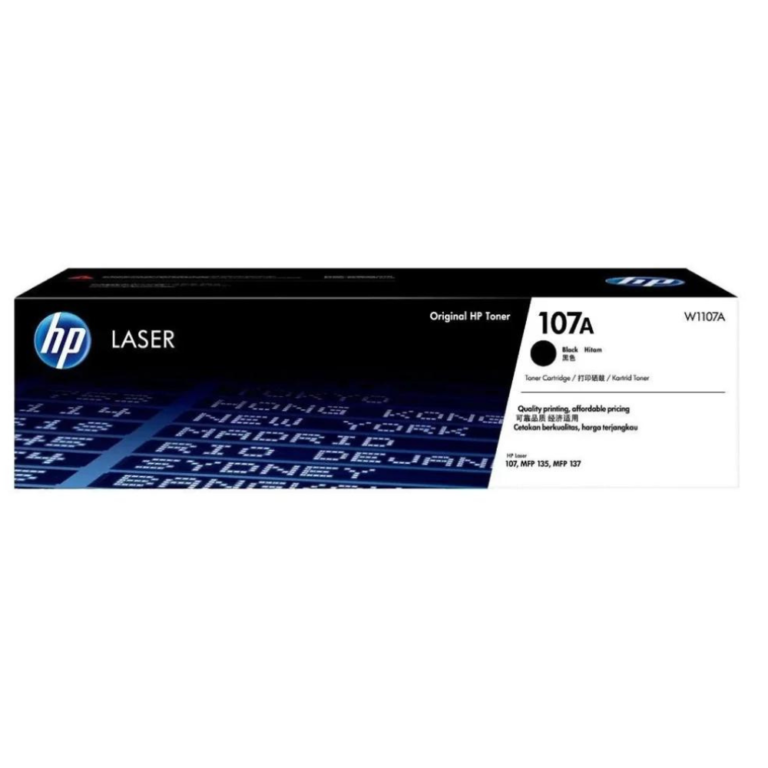 The HP 107A Original Toner is a printer toner cartridge that provides high-quality prints with sharp text and vivid colors. It is designed to work with select HP LaserJet printers, and provides up to 1,000 pages of high-quality prints. The HP 107A toner cartridge is an excellent choice for those seeking cost-effective solutions for their printing needs.
This toner cartridge has been tested and certified by HP to be reliable and compatible with its range of LaserJet printers. It has also been designed to meet the highest standards of quality, ensuring consistent performance and reliability. Furthermore, the HP 107A Original Toner offers users an easy installation process and hassle-free operation. The HP 107A Original Toner price in Srilanka is Rs.20,500.
In comparison to the HP 05A Original Toner, the HP 107A Original Toner offers its users higher page yields while producing superior print quality. This makes it an ideal option for those who need more efficient printing solutions at a lower cost. Additionally, this toner cartridge is more economical in terms of energy consumption as well as being environmentally friendly.
HP 80A Original Toner
The HP 80A Original Toner is a high-quality toner cartridge designed for HP LaserJet Pro printers. It offers outstanding print quality, reliable performance and efficient operation. This toner cartridge yields up to 2,700 pages at 5% page coverage and is compatible with the HP LaserJet 400 Printer M401n/ M401dn, M401dw and MFP M425dn. The HP 80A Original Toner price in Srilanka is Rs.34,000.
This original HP toner cartridge delivers professional-quality documents with crisp text and sharp images. It is easy to install and offers consistent results over its lifetime. The product comes with an estimated printing yield of 2,700 pages based on 5% coverage, making it ideal for home or office use.
Benefits of using the HP 80A Original Toner include:
1) Crisp text and sharp images
2) Easy installation and setup
3) Reliable performance and cost-efficient operation
4) Yields up to 2,700 pages at 5% coverage.
This toner cartridge is designed for optimal performance in a variety of conditions and offers improved productivity without compromising on quality. Its excellent features make it an ideal choice for home or office printing needs.
How To Store An HP Original Toner
Properly storing an HP original toner is essential in preserving its quality and life expectancy. There are a few key steps to follow when storing a toner including cleaning, unpacking, and proper placement. Cleaning the exterior of the toner can help ensure that no dirt or dust has the opportunity to enter and affect the cartridge. Unpacking the toner should be done carefully, as any damage to it can decrease its lifespan. Finally, storing it properly is important for maintaining its quality; this includes placing it in a cool, dry area with no direct sunlight.
When storing an HP original toner, there are four main steps:
• Clean the exterior of the toner before use
• Carefully unpack it
• Store it in a cool, dry area with no direct sunlight
• Place it away from magnetic fields or extreme temperatures
These four steps should be followed in order to properly store an HP original toner and extend its life expectancy. Taking these precautions will ensure that the cartridge continues to work efficiently and effectively for a longer period of time. Additionally, following these steps will help prevent any damage from occurring due to improper storage conditions.
How Long Does An HP Original Toner Last?
Storing an HP original toner correctly is important in order to maximize its lifespan. To this end, it is necessary to understand how long an HP original toner will last. In order to answer this question, the following factors must be taken into consideration:
• Temperature: The optimal temperature for storing a toner cartridge should be between 10°C and 20°C. Keeping the toner in a temperature outside of this range may cause the toner to degrade faster, resulting in a shorter life span.
• Humidity: Humidity levels should be kept below 70% relative humidity, as higher humidity levels can cause mold and other bacteria to grow on the cartridge which can affect its performance.
• Sealed Packaging: It is important that the toner is stored in its original packaging with all seals intact so that it remains dust and dirt free. Storing without proper packaging can reduce the life of the toner significantly.
The exact lifespan of an HP original toner depends on multiple factors, including environmental conditions such as temperature, humidity, and sealed packaging. Proper storage of the cartridge helps extend its life significantly while improper storage or environmental conditions can shorten its lifespan considerably. Therefore, it is important that users take adequate precautions when storing their cartridges in order to ensure they get maximum use out of them.
Conclusion
In conclusion, HP Original Toners offer numerous benefits to users. They come in various types, such as the HP 05A, 107A, and 80A toners. It is important to properly store these toners in order to ensure they last as long as possible. All of these factors make HP Original Toners a great choice for any user looking for reliable printing performance.
The quality of HP Original Toners makes them a worthwhile investment for businesses or individuals who require superior printing performance. Their competitive prices combined with the fact that they are easy to install make them attractive options for users who want the best value for their money. Furthermore, the long life of an HP Original Toner ensures that users can enjoy reliable printing performance over a longer period of time than most other toner brands.
Overall, HP Original Toners provide exceptional value and performance when it comes to printing needs. With its wide range of available toner types and high quality prints, it is no wonder why so many people trust this brand with their printing needs. By choosing an HP Original Toner, users can rest assured that they will be able to count on consistent and dependable results throughout the lifetime of their printer.